Chuangtzu
逍遥遊
The happy excursion

Duchamp & Chuangtzu
▼

Index

Axis

Rack

Scheming mind

Vacancy

DUCHAMP CODE



ZUIHUUKAN
TOP PAGE



北冥有魚、其名為鯤、
鯤之大、不知其幾千里也、
化而為鳥、其名為鵬、
鵬之背、不知其幾千里也、
怒而飛、其翼若垂天之雲、

『荘子』 内篇・逍遥遊篇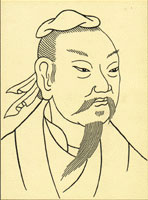 荘周


In the Northern Ocean there is a fish, by the name of 'kun', which is many thousand 'li' in size. This fish metamorphoses into a bird by name of 'peng', whose back is many thousand 'li' in breadth. When the bird rouses itself and flies, its wings obscure the sky like clouds.
to JAPANESE

"Although the great is different from the small, yet if they all indulge themselves in the sphere of self-enjoyment, then all things are following their own nature and doing according to their own capacity; all are what they ought to be and equally happy. There is no room for the distinction of superior and inferior." ----'Kuo Hsiang' (郭象)
cf. Fung Yu-Lan, CHUANG-TZU, 1989, p.25.