HOME > Guide
ABOUT your GUIDE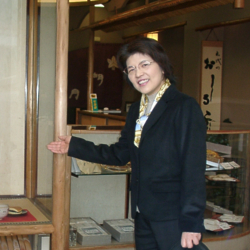 Hi! My name is HATCHO YOSHIKO. In our language the family name comes first, so HATCHO (

) is my family name and YOSHIKO (

)is my given name. Please call me YOSHI-KO, which means "Good Girl". I have a degree in education from Okayama University in Japan and a master's degree in English education (TESOL) from the University of Illinois in USA.
I have been working as an interpreter since 1985 and as an English-speaking guide with an official license since 1988. (I also teach English.) I started my guiding career in Tokyo in 1988, and moved to Nara in 1994. Since then I have enjoyed,as a professional guide, helping foreign visitors to explore Nara and Kyoto, which are two old capitals of Japan with various historic and cultural charms.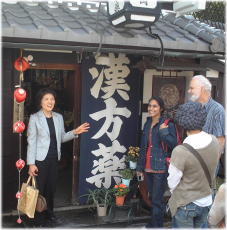 My favorite place in Nara is Naramachi, where time passes slowly. I feel relaxed and refreshed whenever I stroll in this historic neighborhood. As a Naramachi lover I have always felt sorry to see so many foreign tourists leave Nara without visiting this beautiful "old town" district. At the same time I know this area is not easy for tourists to walk around by themselves. That is why I have started this walking tour.
I love Naramachi. I'd like to show you around the places tourists often miss, and help you experience the unique atmosphere of this historic area.
Thank you for visiting the Naramachi Walker web site. Hope to see you on the tour!
HATCHO Yoshiko