Created: Feb 27, 2005

Philips streamium MC-i200 user review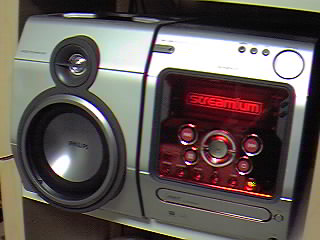 Contents
1. Getting Philips streamium to Japan
1.1 Why Philips?
1.2 Availability
1.3 I got MC-i200/37
2. Philips streamium MC-i200 at a first grance
2.1 My.Philips account
2.2 Internet Radio feature
comming soon!
2.3 CD playback feature
2.4 PC Link feature
2.5 Radio feature

---
---
1. Getting Philips streamium to Japan
---
1.1 Why Philips?
First of all, Philips doesn't sell audio products in Japan. In Japan, they only sell shavers, coffee makers, and irons etc. I imported a Philips' Compact HiFi stereo from the US. Here, I describe why I chose Philips' audio product.
I had been using SONY's compact HiFi system stereo DHC-MD1 about 10 years. About 2003-2004, it had some glitch around buttons (e.g. when I push POWER button to power off, it starts playing CD, etc.) I had arleady sent it back to be repaired a few times for other problems e.g. CD reading problem, MD reading problem, and MD power problem. I didn't want pay any more money for it. So I wanted new HiFi system alternative to SONY's.

What I want was ...
Micro HiFi system (CD, AM/FM Radio)
Internet Radio -
Since spring 2004, I have been using SUNTAC's Broadband Radio BiBio.
It was sold only in Japan usually about US$200 at sale price, specially about US$150 at discount price. Unfortunately it has been discontinued since January 2005.
I have kept it tuned to some Internet Radio station 24 hours a day and 7 days a week, and connected to my FM transmitter to listen to my FM radios anytime and anywhere around my house e.g. in the yard, in the bedroom, in the bath using shower radio, and even in the toilet :)
Internet Radio feature was important for me.
MiniDisc, if possible -
for several years, I have not been using MDs. Not so important for me.
I started to find out about such products above, and soon knew there were none in Japan. In autumn 2004, I found some messages in the BiBio's BBS (the 2ch BBS - Digital Goods board - Internet Radio terminal BiBio thread Japan).
There was a link to Amazon.com(US)'s `Philips MCi250 Wireless Broadband Internet Micro HiFi System.' It matched my needs except it had no MD drive. This was the first time I had heard about the Philips streamium products.
---
1.2 Availability

Promptly I visited Philips' Streamium wireless home entertainment site etc. and got some informations below;
Philips streamium series are mainly home theater systems, but there are a few compact HiFi system stereos.
Streamium's Compact HiFi stereo products are, older MC-i200(Wired LAN) and newer MC-i250(Wireless LAN).
MC-i200 has already been discontinued, but is sold in discount price at some stores at that time.
Their products have regional lineups. Their model numbers have additional regional codes, i.e.
MC-i200/22 and MC-i250/22 are models for Europe,
MC-i250/37 and MC-i250/37 are models for US.
I couldn't find overseas model at that time.
European model requires 220-230V/50Hz AC power.
I can't use it because power outlets supplys 110V/60Hz in west Japan where I'm living, unless I get a power converter.
US model(120V/60Hz) may be OK. In general, electrical appliances from US are connectable directly to power outlets in Japan.
So when I decided to buy Philips's, I had to choose US model.
Streamium's FM wave range is 87.5 - 108 MHz.
In Japan, FM wave range is 76.0 - 90.0 MHz (a.k.a. Japanwide; it's not worldwide.)
I couldn't tune some FM stations.
But recently I don't listen to local FM stations. And my FM transmitter can send radio waves in that range. It is not a big probrem for me.
US model's AM tune grid is 10kHz.
In Japan, AM tune grid is 9kHz (same as Euroasia,)
I couldn't tune correctly e.g. tuning 666kHz station by 670kHz setting.
But the biggest frequency gap between 9kHz grid and 10kHz grid is only 4kHz. I had already have a worldwide portable radio and I tried tuning to 9kHz grid stations by 10kHz grid. I felt no difficulty in listening. It is also not a big probrem for me.

BTW, Yokota Air Base - U.S. Air Force's only airlift hub in the Western Pacific - has AM radio station in Tokyo Japan; American Forces Network Tokyo. Its frequency is 810kHz, that can be tuned correctly on both 9kHz grid radios and 10kHz grid radios. It's smart!


Currently, RealAudio and Windows Media types are not supported.
I don't listen to such types Internet Radio stations. I don't care.
Philips in Japan won't import streamium products.
When I phoned them, they said so.
Warranty service is not available in Japan.
In MC-250/37 instruction manual(PDF)'s `WHERE IS SERVICE AVAILABLE?' page, it states;

Warranty service is available in all countries where the product is officially distributed by Philips. In countries where Philips does not distribute the product, the local Philips service organization will attempt to provide service (although there may be a delay if the appropriate spare parts and technical manual(s) are not readily available).

I would be the latter. I didn't know if Philips in Japan would really `attempt to provide service.' I e-mailed a question message about warranty in Japan to Philips Consumer Care with my phone number (in English, of course). I waited one week, but they didn't respond. I e-mailed again and I also waited one week, but no answer. I e-mailed again a third time with a complaint about waiting. Then they made an international telephone call to me directly from Singapore (in English, of course).
He said, Philips in Japan can't handle streamium products. So when something is wrong with the product, I will need send it back to US.
In this case, the manual is wrong.
Though I think Philips in Japan have to be responsibile to the product as mentioned in the manual, since they are big, global company.
So there were some problems though, I wanted to get MC-i200/37 or MC-i250/37 from US. I knew that Amazon.com doesn't ship electronics products to Japan, I started to find other shop that ships directly to Japan. But eventually there was no shop like that. So I decided to use some import service company for Japanese in Oregon, the only state where there is no sales TAX in US.
I ordered at one shop, but It was out of stock. Next shop couldn't be used by that import service company because of security reason (risk of the Internet scams?) Third shop, I finally placed an order in early December 2004.
---
1.3 I got MC-i200/37
I got MC-i200/37 at discount price about US$170, with shipping and handling the total cost was about US$300. I received it to my house Christmas Eve 2004. I think this was Christmas present for myself.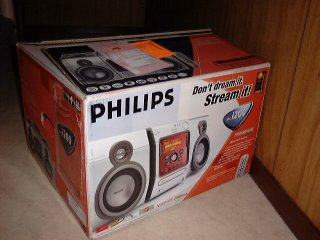 First, I saw the photo printed outseide of MC-i200's box, I was surprised by it's color. I believed it would be silver and black. But it's silver and RED. What a color! It reminds me surprised of when I saw STAR WARS' Darth Maul for the first time.
I have never seen such a vivid red color coordination audio product in Japan. If there was, it should be one of some color variations.
About MC-i200 and MC-i250, I thought both they are black and difference between them is only Wired LAN or Wireless LAN. But, their colors are obviously different.

I couldn't notice the color because MC-200/37 instruction manual(PDF) is monochrome. I should find MC-i200's leaflet(PDF). Of course it's color!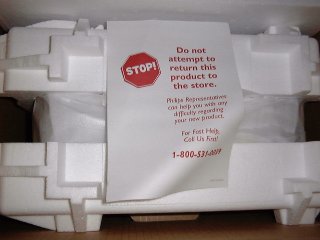 Next, I opened the box, there was a warning message printed on the lid saying
`Do not attempt to return this product to the store.'

and also a warning message leaflet. I wonder how many percentage of peoples did they return their products without reading manuals enough...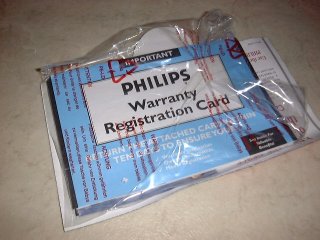 Then I found a registration card saying
`Return your Warranty Registration Card within 10 days'
but it had spent already 2 weeks since placing the order. I couldn't help posting the card with a little too late.


*TO BE CONTINUED...
---
---
2. Philips streamium MC-i200 at a first grance
---
2.1 My.Philips account
To use MC-i200 with internet feature, I had to connect to the Internet and register My.Philips account at first.
To register at My.Philips.com, I pressed the Connect button on the remote control. Then my MC-i200 connected to the network, a voice guide for registration process came up to the speakers (in English, of course).
It said I had to enter my email address using the remote and press OK. Here I noticed that this product needs PC and e-mail account (since BiBio doesn't need them.)
The remote's input method is like as cellphone's. But MC-i200's display font is horrible. It is difficult to distinguish whether the character is capital letter or small letter.
After entering email address, I got e-mail from Streamium and there was instructions to complete registration. Then the Online Upgrade started automatically and restarted. Now I have got the latest firmware.


*TO BE CONTINUED...
---
2.2 Internet Radio feature
According to the `Internet Music Services'(PDF), following music services are available for streamium; I chose LAUNCHcast@Yahoo!, Live365.com, and Radio-Free Virgin. They're free for charge.

*TO BE CONTINUED...
---
y-katow web home
y-katow@iris.eonet.ne.jp