OSAKA TIN TOY INSTITUTE
---
NOBUO YAMASHITA ART of TIN TOY ROBOT
Produced by OSAKA TIN TOY INSTITUTE
HAND MADE TIN ROBOT ART since 1980's
Mr. Nobuo Yamashita was a collector of tin toys from the 1970s, now has a keen interest in making own tin toy.
The folded hard at work with a new taste of retro tin toy production and more than 30 years career.
Launched a brand from the OSAKA TIN TOY INSTITUTE NOBUO "YAMASHITA ART ROBOT" last year. He has also produced art with the wind up unit and electric motor unit those are presented by OTTI.
Many pieces are housed in the collection room of an international avid collector.
*All works are produced with a tin plate.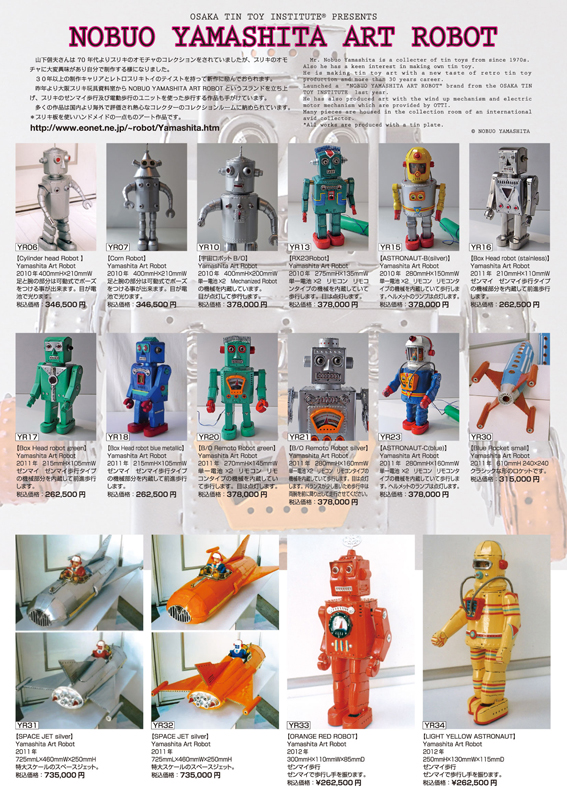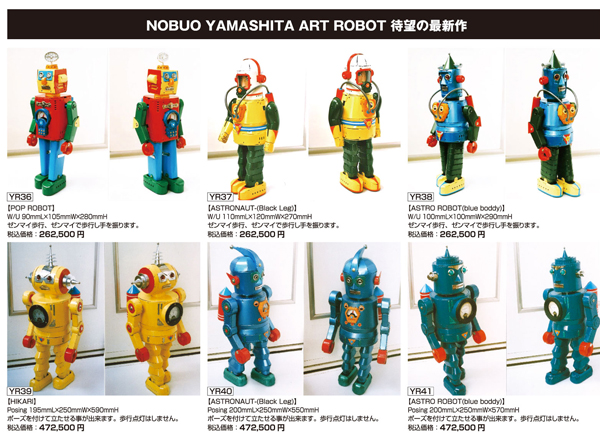 ---

TIN TOY,レトロ倉庫 は大阪ブリキ玩具資料室の登録商標です。
カタログと購入申込書をお送りします。お名前、ご住所、郵便番号、電話番号をお知らせください。
Last Update: Wed, 2021-01-27
(C) Nobuo Yamashita
All rights reserved.
Copyright (C) OSAKATIN TOY INSTITUTE All rights reserved.
このホームページ上の文書や画像を無断で使用することを禁じます。